Next Update: Mushlings, Sept. 3 @ 8:30 PM EST!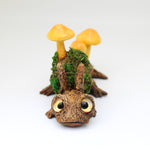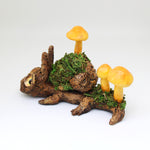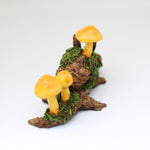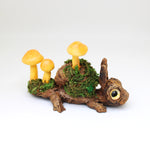 Snood the Snailamander
Regular Price

$150.00

Sale Price

$150.00

Regular Price

Unit Price

per
Snood is a Wood Bark Snailamander discovered in Florida while on my travels on the Mobile Magick Lab. 
Species Profile:
Taxonomy:  Arborformidae x gastrourodela
Common Name:
  Wood Bark Snailamander
Diet:
 Worms, slugs, snails and larvae.
Habitat:
 Lives in burrows or under logs.
Physiology:
  Body of a salamander with antennae and shell of a snail. Skin and shell are made from bark with mushroooms growing from it.
Magical Abilities:
 Currently unknown, though working theory is the species is very old.
----------


This art toy is made from my own original sculpt, and molded and casted in resin. It is painted with acrylic paint, made my own handmade glass eyes, and preserved moss.
This Snailamander measures approximately 3" long x 2.5" tall  x 1.5" wide, is not a children's toy and is for indoor use only.
Please do not store in a planter, garden or anywhere that gets saturated with water, as it will deteriorate the paint and harm the sculpture.