Next Update: Mushlings, Sept. 3 @ 8:30 PM EST!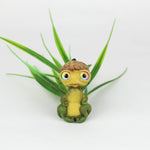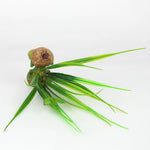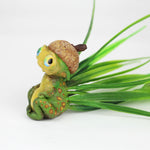 Sargi the Stray Sod
Regular Price

$135.00

Sale Price

$135.00

Regular Price

Unit Price

per
Sargi is a Stray Sod from Firefly Field of the Trillium Forest. 
Species Profile:
Taxonomy: Cespidae communis
Common Name:  Stray Sod 
Diet:  Herbivore. Consume native fruits, berries and young herbaceous plants.  
Habitat:  Grassy fields, and sometimes find their way into suburban areas and yards.
Physiology:  Small with tentacle-like arms, with toad-like skin and texture. Stands upright and walks on two feet. Plant matter growing out of backside. 
Magical Abilities: Creates confusion/disorientation if stepped on.
----------


This art toy is made from my own original sculpt, casted in resin and painted with acrylic paint. It also is made with epoxy clay, my own handmade glass eyes and artificial plant material. 

This Stray Sod measures approximately 2.25" tall x 1.5" wide x 7" long, is not a children's toy and is for indoor use only.
IMPORTANT, PLEASE NOTE: Do not store in a planter or anywhere that will be saturated with water, as it will deteriorate the sculpture.