Next Update: December Creatures 12/10 @ 7:30 PM EST!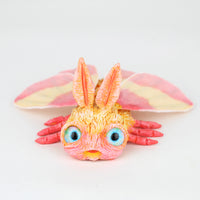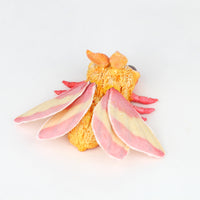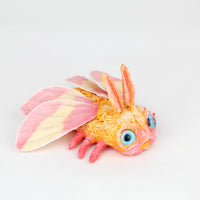 Rosy the Faerie Rosy Maple Moth
Rosy is a Faerie Rosy Maple Moth from the Magic Garden of the Trillium Forest. 
Species Profile:
Taxonomy: Saturniidae x Faeus (Family)
Common Name:  Faerie Silk Moth
Diet:
Only eat at larval (caterpillar) stage, usually consume tree leaves.
Habitat: Temperate deciduous forests and nearby suburban/urban areas and landscapes. 
Physiology:  Wooly body with six legs and colorations that vary across species'.
Magical Abilities: Currently unknown.
----------


This art toy is made from my own original sculpt, casted in resin and painted with acrylic paint. It also is made with my own handmade glass eyes, my own handmade fabric wings, and epoxy clay.

This Moth measures approximately 3" long x 3.5" wide x 1.5" tall, is not a children's toy and is for indoor use only.
IMPORTANT, PLEASE NOTE: Do not store in a planter or anywhere that will be saturated with water, as it will deteriorate the sculpture.
Secure online shopping