Next Update: Mushlings, Sept. 3 @ 8:30 PM EST!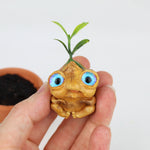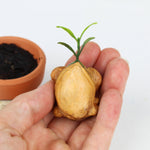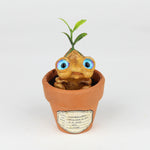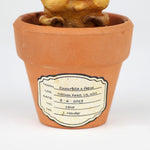 Pumpkin Seedling #1805
Regular Price

$70.00

Sale Price

$70.00

Regular Price

Unit Price

per
This Pumpkin Seedling is a result of my faerie plant research in my greenhouse of the Magic Garden in the Trillium Forest. 
Species Profile:
Taxonomy: Cucurbita x faeus
Common Name:  Faerie Pumpkin Seedlings
Diet:  Does not require external nutrients.
Physiology:  Splitting/opening of the seed occurs around what appears to be the top of the head but the effect does not appear to inflict pain, in fact quite the opposite. Bulbous eyes, tentacle like arms and feet with toes.
Magical Abilities: Currently unknown.
----------

This art toy is made from my own original sculpt, casted in resin and painted with acrylic paint. It also is made with my own handmade glass eyes and comes in a clay pot with my own handmade faux soil.
This Seedling by itself measures approximately 2.5" tall x 1" wide, and it's pot measures 1.5" tall x 1.5" wide. This is not a children's toy and is for indoor use only.
IMPORTANT, PLEASE NOTE: Do not store in a planter or anywhere that will be saturated with water, as it will deteriorate the sculpture.