Next Update: December Creatures 12/10 @ 7:30 PM EST!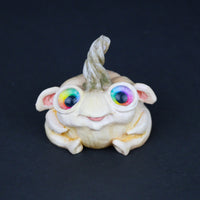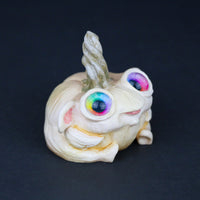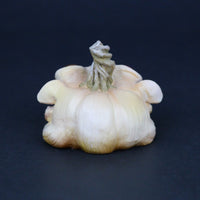 Pumly the Faerie Pumpkin
Pumly is a Faerie Pumpkin grown in the Magic Garden of the Trillium Forest
Species Profile:
Taxonomy:
  Curcubita faeus
Common Name:
  Faerie Pumpkin (Baby Boo or Munchkin varieties)
Diet:
 Only require nutrients while attached and growing on the plant.
Habitat:
  They like full sun spots with lots of room for vines to grow. Also prefer well-drained, fertile, loamy soil, with a neutral pH, but they will grow in heavier clay soils as long as they are not continually wet.
Physiology:
  Pumpkin body with face and appendages, and typical Trillium Forest faerie ears and eyes.
Magical Abilities:
 Pumpkin Faeries have the ability to heal conditions related to the eyes.
----------

This art toy is made from my own original sculpt, casted in resin and painted with acrylic paint. It also is made with my own handmade glass eyes.
This Pumpkin measures approximately 2.5" tall x 3" wide, is not a children's toy, and is for indoor use only.
Secure online shopping