Next Update: December Creatures 12/10 @ 7:30 PM EST!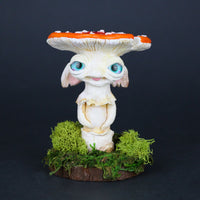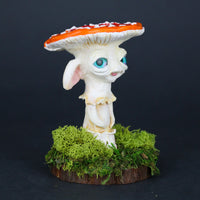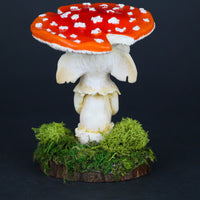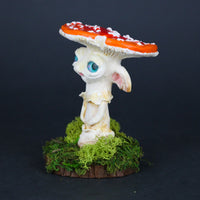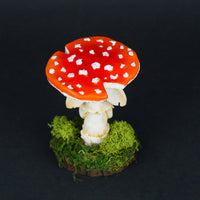 Meravorn the Elder Amanita Mushling
Meravorn is an Elder Amanita Mushling found in the Fungi Kingdom of the Trillium Forest. 
Growing under a giant Hemlock tree is a fairy ring of magical fungi known as the Elder Mushlings. Due to their age and connection with this sacred ancient conifer, they are recognized as wisdom-keepers of the Forest. 
----------

This art toy is made from my own original sculpt, casted in resin and painted with acrylic paint. It also is made with my own handmade glass eyes and mounted to a wood base with preserved moss.
This Mushling measures approximately 3" tall x 2.5" wide, is not a children's toy and is for indoor use only.
IMPORTANT, PLEASE NOTE: Do not store in a planter or anywhere that will be saturated with water, as it will deteriorate the sculpture.
Secure online shopping