Next Update: December Creatures 12/10 @ 7:30 PM EST!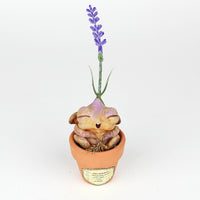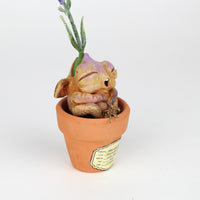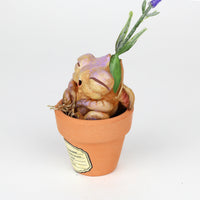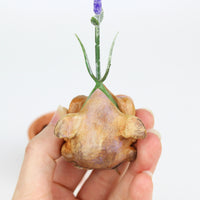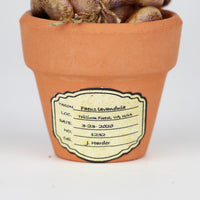 Lavante the Lavender Seedling
Lavante the Lavender Seedling was grown in the Magic Garden greenhouse of the Trillium Forest.
Taxonomy:  Faeus lavandula
Common Name:  Lavender Faerie Seedling
Diet: Require adequate light. They uptake nutrients and water from the soil with the roots sprouting from their feet and hands.
Habitat: Seedlings need to be cultivated in greenhouses in pots.
Physiology:  Seed body with face and appendages, roots growing from feet and hands, plant sprout from top of head. They need to dig hands and feet into the soil from time to time so their roots can absorb nutrients.
Magical Abilities: Currently unknown, more research needed. Temperament seems to be influenced by their plant genes.
This art toy is made from my own original sculpt, and molded and casted in resin. It is painted with acrylic paint and made my own handmade glass eyes. It comes with a terra cotta pot and faux soil.

This seedling with its pot measures approximately 6" tall x 2" wide, is not a children's toy and is for indoor use only.
IMPORTANT, PLEASE NOTE: Do not store in a planter or anywhere that will be saturated with water, as it will deteriorate the sculpture and paint. It's best to leave it in its own pot (where it is most comfortable anyway!)
Secure online shopping