Next Update: December Creatures 12/10 @ 7:30 PM EST!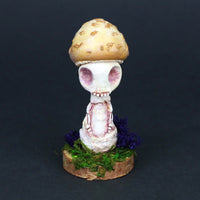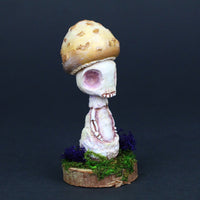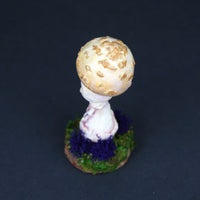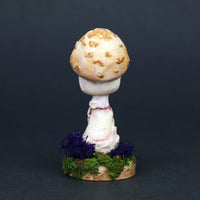 Grim the Death Cap Mushling
Grim is a Death Cap Mushling from the Fungi Kingdom of the Trillium Forest. 
Species Profile:
Taxonomy: Fungiformidae var. Amanita phalloides
Common Name:  Death Cap Mushling
Diet:  Absorbs nutrients from plant and animal matter around them. 
Habitat:  Mycorhizal with hardwood trees, especially oaks, and occasionally with softwoods.
Physiology:  Yellowish-brown cap that emits a sickly-sweet smell. Skeleton anatomy including skull and bone arms.
Magical Abilities: Can kill with one touch or if touched itself.
----------

This art toy is made from my own original sculpt, casted in resin and painted with acrylic paint. It also is made with my own handmade glass eyes and mounted to a wood base with preserved moss.
This Mushling measures approximately 3.5" tall x 1.25" wide, is not a children's toy and is for indoor use only.
IMPORTANT, PLEASE NOTE: Do not store in a planter or anywhere that will be saturated with water, as it will deteriorate the sculpture.
Secure online shopping