Next Update: December Creatures 12/10 @ 7:30 PM EST!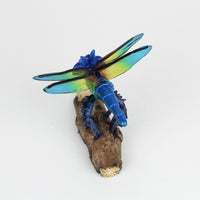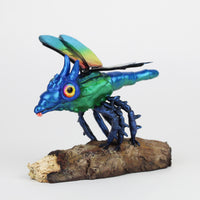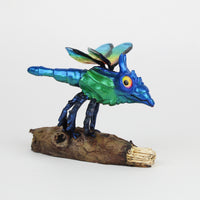 Donatello the Dragonfly
Donatello is a Dragonfly that was discovered in the Magic Garden of the Trillium Forest
Taxonomy:  Dracoanisoptera
Common Name:  Enchanted Dragonfly
Diet:  A variety of insects including mosquitos, gnats, flies, and cicadas.
Habitat: Prefer warm climates, closer to water.
Physiology:  Insect body, dragon head, dragon and insect fusion type of legs. Four insect wings.
Magical Abilities: Breathe fire after charging in the sun.

This art toy is made from my own original sculpt, and molded and casted in resin. It is painted with acrylic paint and my own handmade glass eyes and wings.

This dragonfly measures approximately 3" tall x 4" long x 3.5" wide, is not a children's toy and is for indoor use only.
IMPORTANT, PLEASE NOTE: Do not store in a planter or anywhere that will be saturated with water, as it will deteriorate the sculpture and paint. 
Secure online shopping