Next Update: December Creatures 12/10 @ 7:30 PM EST!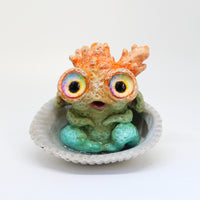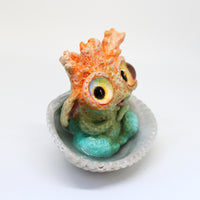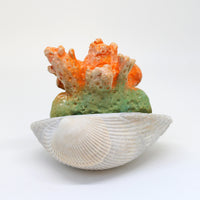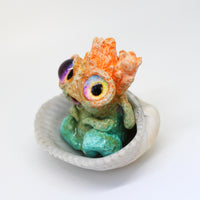 Corlito the Coral Faerie
Corlito is a Coral Faerie discovered on a beach in South Carolina while on my travels on the Mobile Magick Lab. 
Species Profile:
Taxonomy:  Anthozoa x faeus
Common Name:  Coral Faerie
Diet: They trap and eat zooplankton in passing currents.
Habitat: Coral reefs, though can travel to shores and be above ground if they stay wet.
Physiology:  Coral polyp body with appendages and face, can be a variety of colors. 
Magical Abilities: Emit a chemical to attract other animals to defend threats against a reef.
----------


This art toy is made from my own original sculpt, and molded and casted in resin. It is painted with acrylic paint and made my own handmade glass eyes. It is permanently set in a real shell with resin and sand.
This Coral Faerie measures approximately 2" tall x 1.5" wide (not including shell), is not a children's toy and is for indoor use only.
Please do not store in a planter, garden or anywhere that gets saturated with water, as it will deteriorate the sculpture.
Secure online shopping