Next Update: December Creatures 12/10 @ 7:30 PM EST!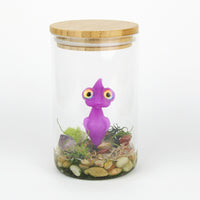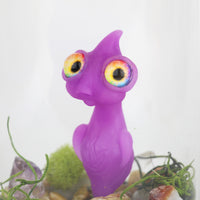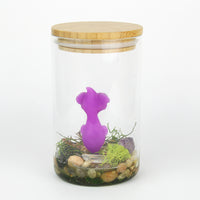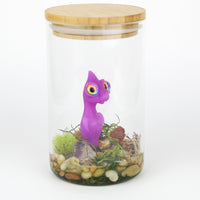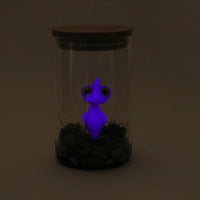 Ray the Will o' the Wisp
Ray is a Will o' the Wisp I discovered in the Crystal Stream of the Trillium Forest. 
Taxonomy: Ignus fatuus
Common Name:  Will O' The Wisp
Diet:  N/A
Habitat/Physiology:  Most commonly found hovering over bogs, swamps, marshes or other water bodies at night. Can occasionally be found in fields and wooded areas.
Magical Abilities: Most known for leading humans astray, often to their demise. Current hypothesis of its role in the Trillium Forest is to guide travelers away and out of the magical boundary to protect Faerie inhabitants. More research is needed.
----------

This art toy is made from my own original sculpt, and casted in resin with pigments. The Wisp glows in the dark after being charged by direct or UV light. It is made with my own handmade glass eyes and comes permanently in a glass terrarium filled with preserved moss, rocks, crystals and epoxy resin.
This Wisp itself measures  3" tall x 1.25" wide, and the jar is 6" tall x 3.5" wide.
This not a children's toy and is for indoor use only.
Secure online shopping