Next Update: December Creatures 12/10 @ 7:30 PM EST!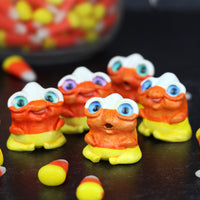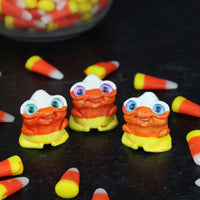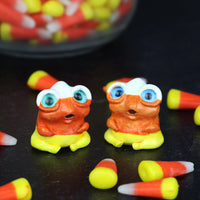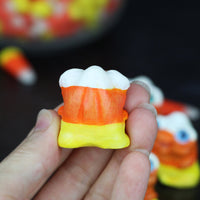 Candy Corn Blind Box Pre-order
This is for a resin casted BLIND BOX Enchanted Candy Corn! Enchanted Candy Corns are conjured in the Little Witch's Cabin.
Please read all details below BEFORE purchasing!
You will be able to choose the type of Candy Corn but the eye color will be a complete surprise. Each candy corn is hand-painted, so there might be some slight variations from the ones pictured.
You have the choice between HAPPY or SCARED. 
Please take note that I won't be responding to or accommodating any custom requests for eye color!
This art toy will take up to 5 weeks for your order to be shipped. Due to delays with the postal service, I cannot guarantee it will arrive before Halloween!
This art toy is made from my own original sculpt, casted in resin and painted with acrylic paint. It also is made with my own handmade glass eyes.
This Candy Corn by itself measures approximately 1.5" tall x 1.25" wide. This is not a children's toy and is for indoor use only.

I do not accept returns!

Secure online shopping