Next Update: December Creatures 12/10 @ 7:30 PM EST!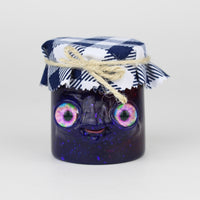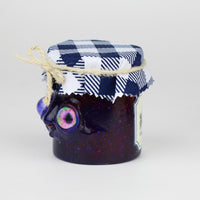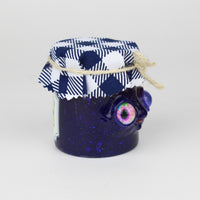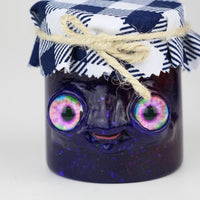 Briggs the Enchanted Blueberry Jam Jar
Briggs is an enchanted jam jar conjured in the Little Witch's Cabin in the Trillium Forest.
**BRIGGS HAS A SMALL IMPERFECTION THAT RESULTED FROM THE RESIN CASTING PROCESS IN THE LEFT EYE AND THEREFORE IS BEING OFFERED AT A REDUCED PRICE.**
----------


This art toy is made from my own original sculpt, molded and casted with resin, using a variety of pigments and glitter. It is also made with my own handmade glass eyes.
This jam jar measures approximately 3" tall x 2" wide, is not a children's toy and is for indoor use only.
Secure online shopping